A student playing piano in Music Class at ETSS Wicklow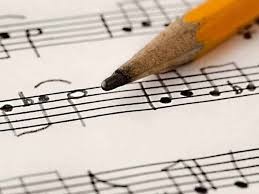 Music has a strong cultural, academic, diverse, and social presence in the day to day life at Educate Together Secondary School Wicklow. The Junior Cycle Music course has been specifically devised to suit the entire range of student's aptitude and ability. The course has been created to enable all students to acquire musical skills suited to their age, varying abilities and musical experiences.
Aim:
The aim of the music curriculum is to encourage the development of musical creativity, sensitivity and potential through active involvement in performing, composing, and listening to music.
Curriculum:
All First-Year students sample music as part of a taster module. Any student who does not play an instrument prior to secondary school should not be put off taking Music. Students that decide to study music will be taught the Ukulele in class and are also involved in class-based singing. Our Christmas Show and May Concert are big parts of the Music curriculum and give the students the opportunity to perform and develop their confidence.
Junior Cycle:
The Music course for the Junior Cycle covers all genres of music from early classical to modern day pop and rock. Students preparing for Junior Cycle Music are also involved in the acquisition of listening, performing, and composing skills. Through the gradual development of these three skills, the Junior Cycle Musician will have a better understanding of music, both inside and outside the classroom. As an school where students work with iPads, we use various different apps within the classroom such as Notation Pad and Garage Band.
Music benefits students in many important ways, for example, giving them a mastery of memorisation. Even when performing with sheet music, student musicians are still using their memory to perform. This skill is constantly enhanced within the music classroom at ETSS Wicklow.
Creativity is at the heart of Music and music classes at ETSS Wicklow and prepares students for the creative economy of the future. Students who study the arts can learn to think creatively. This kind of education can help them solve problems by thinking outside the box.
MUSIC HAS FACED A LOT OF CHALLENGES AS A SUBJECT DUE TO COVID-19
BELOW ARE SOME RULES FOR THE MUSIC CLASSROOM AT PRESENT